When: Friday July 1st, 6:00pm
Where: Work Shop– Cnr Cleveland & Eveleigh Streets, Redfern
Cost: $10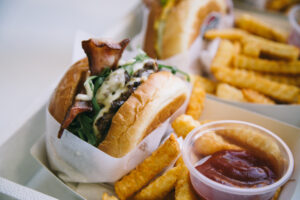 On the first Friday of every month head on down to the Work Shop, Chippendale for some tasty burgers and some equally tasty beats. Each month there is a whole new selection of burgers and beers to sample from as well as different live performances. This week, it's a chicken edition with burgers from the legendary Butter, Chicken & Sons, and Waffles & Dom. Wash all that deliciousness down with beers from 4 Pines, Coors and Santa Cruz, plus alcoholic ginger beer. All the while enjoy the pumping background beats of Alex Wall from Wax Witches, Jordan Malane from Bleeding Knees Club and AUX JAX.
When: Saturday July 2nd, 3pm-3am
Where: Secret CBD location disclosed only with ticket purchase
Cost: $30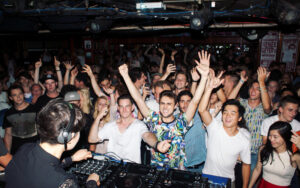 Local techno collective, Motorik, will be celebrating 5 years of sweaty beats, raves and warehouse parties with an epic birthday bonanza in a secret central city location. With Funktion One sound outdoors and mind-blowing visuals over 3 stages, this is one party you do not want to miss, plus there are no lockouts! Music by ANNA, Mark Pritchard, Motorik Vibe Council, Stereogamous, Groove Terminator, Human Movement, Wordlife, McLean & Mai, Francis Xavier, Phil Smart, Made In Paris, and Brothers.
When: Sunday July 3rd, 10am-4pm
Where: Central Park – 28 Broadway, Chippendale
Cost: Free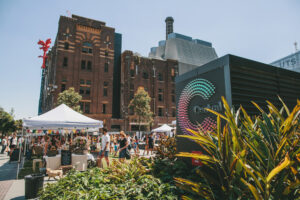 10am till 4pm on the 1st & 3rd Sunday of every month, you can hit up the Brewery Yard Markets, a handpicked collection of stallholders that offer the best produce, fashion, flora, services, wares and products around. There you'll find incredible entertainment, live art demonstrations and some seriously cool stuff to purchase. They've got snacks from Brooklyn Boy Bagels, Eatabella's Vietnamese BBQ, cold-pressed goodness from Prodjuice and ping pong tables. Located across from UTS in the historic site of the former Carlton United Brewery, this market is less than 5 minutes walk from Sydney's Central Station and a small leisurely hike from the City, Surry Hills, Glebe, Newtown, Haymarket and Redfern.
When: Thursday June 30th till Saturday July 16th, From 10am
Where: St Mary's Cathedral- Cnr Prince Albert Rd & College St, Sydney
Cost: Free ($22 for ice-skating)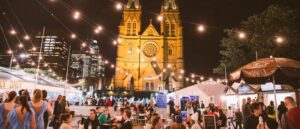 For 18 days this winter, St Mary's Cathedral will host an amazing snow fest of cold weather activities, like ice-skating and toboggan rides, along with hearty food stalls and live music every night. Take a ride on the Toboggan Terror, hire an inflatable Zorb ball to walk on water in the Cathedral's outdoor water feature, or rent out your own private igloo and warm up with some mulled wine, German sausages and Belgian waffles. There is plenty to see and do this winter: who would have thought the cold could be so fun?
When: Sunday July 3rd
Where: Daniel San – 55 North Steyne Rd, Manly
Cost: Free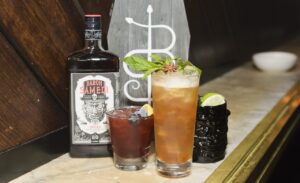 Every Sunday for a month the Beachside Dojo, Daniel San's lofty lounge bar, will be celebrating the launch of Baron Samedi spiced rum with cocktails and live tunes.
Named after a legendary Haitian vodoo figure, Baron Samedi Spiced will be the featured drink at the weekly Voodoo Sounds parties. Here guests will be able to sample the smooth and rich undertones of this premium spirit, flavoured with vanilla, cocoa, cinnamon, ginger beer, fresh lime and a dash of bitters.