When: Friday 11th– Saturday 13th, varying times
Where: Museum of Contemporary Art- 140 George St, The Rocks
Cost: Free & Ticketed events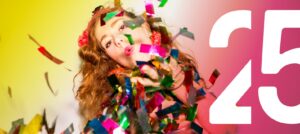 The Museum of Contemporary Art is turning 25 and what better way is there to celebrate than a three day extravaganza of art and live performances? Engage in unexpected encounters with four new commissioned artworks. There will be also be interactive performance works by Lauren Brincat, Bree van Reyk, Hossein Ghaemi, Jess Olivieri and Techa Noble.
It would hardly be a birthday without cake, and luckily MCA has that covered too, handing out free cake from Cakes By Cliff this Saturday. If you'r feeling adventurous you can catch a naked tour. Yes, you read that correctly. Experience art from a whole new perspective by literally removing the material barriers between art and audience. You can even speak to some of the artists who will, just like you, be completely nude.
When: Sunday 13th, 8:30am
Where: Sydney Boys High School- Moore Park, Surry Hills
Cost: $2 Entry- $10 early entry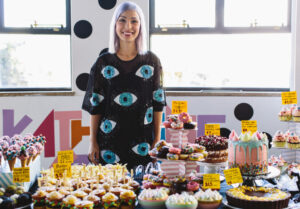 So maybe naked art tours aren't your thing, but if the thought of free cake from the MCA got you salivating, then boy have I got an event for you. The Flour Market is not just any ordinary bake sale; it's a smorgasbord of the best sweet delights Sydney has to offer.
The Flour Market has become quite the anticipated event so you'll have to get there early if you want to score some mouth-watering baked goods from the likes of Brewtown Newtown, Andy Bowdy, Brickfields, Black Pantry, Alfamores, Ciccone & Sons, Devon Cafe, Donut Papi, Fleetwood Macchiato, Gateaux Sydney, Grumpy Donuts, Luxbite, Miss Lilly's Kitchen and Shortstop Donuts & Nutie. Purchase a $10 early risers ticket to get first pick of the freshly baked goodness. What's that saying again, "the early bird gets the cinnamon, berry glazed cronuts and salted caramel macaroons"?
When: Every Friday, 4pm
Where: Blacktown City Council- 62 Flushcombe Road, Blacktown
Cost: Free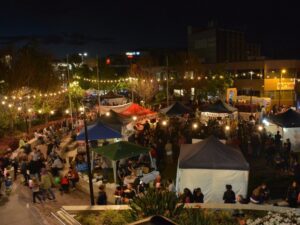 Can't wait till Sunday for the Flour Market? The good news is there are plenty of other unique food markets to satisfy those cravings while you wait. Every Friday from 4pm to 10pm you can grab some delicious eats at the Aussie Night Market in Blacktown.
This market has over 50 stalls ranging from traditional carnival foods like corn on the cob, to exotic cuisines like Cambodian Fish soup and Filipino street food. You can even grab a bargain at one of the many pop up retail stores. This event brings the streets to life with the hustle and bustle of a large crowd and energetic DJ sets.
When: Sunday 13th, 9:30am
Where: Camperdown Memorial Rest Park- Australia St, Lennox St, Church St and Federation Road, Newtown
Cost: Donation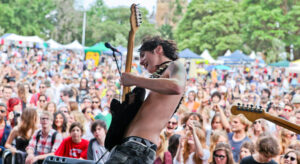 Yet another massive celebration of community spirit, Newtown Festival is one of Sydney's most cherished events. This year it is getting a re-vamp with a new look, more space, new chill out areas and some great new stuff to experience. There'll be 300 stalls selling food, art, crafts, fashion and bevvies.
As always there will be the crowd favourite dog show and writer's tent, but most importantly there will killer line up of choice tunes from the likes of The Griswolds and Purple Sneaker DJs. This year is so big they had to add a third stage for the kids and world music. The other awesome thing about this festival is that it actively supports the homeless in the Inner West through the Newtown Neighbourhood centre.
When: Friday 11th– Sunday 13th
Where: Del Rio Riverside Resort- Old Northern Rd, Wisemans Ferry
Cost: $220 Includes Camping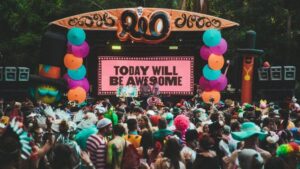 Spring is always a good time for festivals, and to kick of this most festive of seasons Return To Rio is bringing a massive line-up, promising you the ultimate weekend getaway. Return To Rio is a boutique dance festival that originally started out as an epic pool party and later transformed into one of the wildest camp outs in Australia.
The 2016 line up has Carl Cox headlining playing an ear-gasmic 10 hour set, (that's right 10 hours!). He will be joined by his buddy Eric Powell and his mobile disco. There will also be performances by DJ EZ, De La Soul, Super Flu, Mr C, LTJ Bukem, Atish and YokoO, plus many more. Remember to get your costume ready because this is a dress up festival (the crazier the better).