Welcome to the first installment in a new series which looks at the week that was in the National Rugby League (NRL) with a twist. This is The 4 Pointers for round 5:
Poor Paul Gallen:
Paul Gallen: one of the most polarising figures in the NRL. For the majority of the year, he is hated by anyone other than those silly enough to go for the Cronulla Sharks. But, come State of Origin time and New South Wales fans promote him as a hero who could do no wrong.
Unfortunately for Gallen, this week it isn't Origin and after returning from injury against the Wests Tigers, he went back to his old ways. There was the famous hard running and the even more infamous whinging.
People on social media are pretty unkind and took to Twitter to highlight how good he really is at 'talking' to the referees.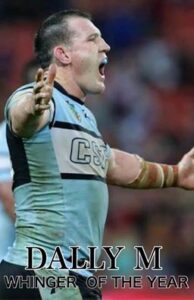 It's okay, Gallen, we'll all love you in eight weeks time.
2. Highway Robbery in Parramatta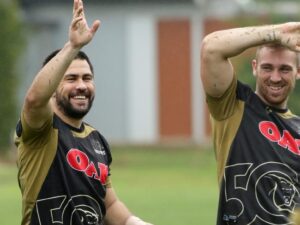 Put your hand up if you committed a crime in the last week. Yep, those two above are certainly guilty after stealing the victory from Parramatta on Sunday with a try right on the buzzer.
The Eels looked set to continue their good run of form to start the season, but Jamie Soward and Bryce Cartwright had other ideas as they orchestrated a blatant example of highway robbery.
Eels players can still be found at Pirtek Stadium looking for the two points they lost.
3. Benji done?
As a Tigers fan, I was supposed to idolise Benji Marshall. I mean he can do flick passes! *cue hysteria*
But, as the flick passes turned into error after error, he left the club for Rugby Union where he failed before he returned to the game with St George.
Since returning he has shown glimpses of some brilliance, but coming off contract at the end of this season he believes he is worth $750,000. This is despite the fact that he was offered $300,000 by the Dragons and is 31-years-old.
His performance on the weekend didn't do his chances any good when his side couldn't even muster up a single point and they were belted 36-0. If he wants to get that new contract he better find the time machine and wind it back to 2005.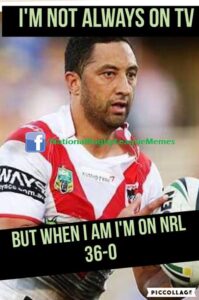 4. Bulldogs fans strike again… literally: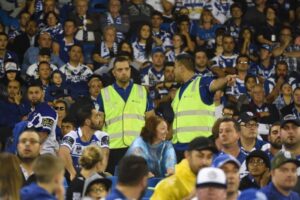 Someday soon, there may come a time where there can be no forms of fluid at Bulldogs games after a second incident involving throwing bottles towards the field of the play in the last twelve months. Last year, it was plastic bottles at the referees, but apparently that wasn't enough as they managed to smuggle in a glass bottle which they threw at the Raiders bench, hitting an exercise bike. Luckily, no one was hurt but this shows that you can take the Bulldogs out of Belmore but you can't take the Belmore out of the Bulldogs.
That's all for this weeks edition of The 4 Pointers. Come back next week for another weird and wonderful look at the NRL.